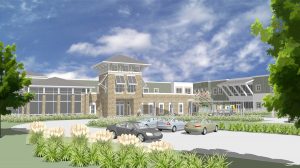 Picolata Crossing Elementary
will open for the 2017-2018 school year and is being constructed at 2675 Pacetti Road. With 871 student stations, the school will contain approximately 110,000 square feet and 43 classrooms.   Movable walls will open to create flexible-sized classroom spaces and extend learning areas for collaboration opportunities.
This school will also feature state-of-the-art technology and core facilities that include a media center, cafetorium, playgrounds and physical education fields. It is two stories and being built to Green Building Standards on an 18.5-acre site.
++++++++++++++++++++
Immunizations
School and Sports Physicals
July 11th @ Ketterlinus Elementary School
School Hours
Monday, Tuesday, Thursday, Friday
8:30 AM – 2:50 PM
Wednesday (Early Release) 8:30 AM – 1:50 PM
++++++++++++++++++++
Mark your calendars!
  Monday, June 26th

from 9:00a-2:00p

Kindergarten Pre-Registration
@
Pacetti Bay Middle School
Questions?  Please call 904-547-4160
SJCSD General Registration Packet 2017-2018
+++++++++++++++++
Beginning July 1st
Need to Register for School Access or as a
St. Johns County Approved Volunteer?
Click here to get started!
++++++++++++++++++
Coming Soon – for all Picolata Crossing Parents!
View your student grades online via
Home Access Center (HAC)
Click on the button below:

Any questions?  Please contact Susan Gould
+++++++++++++++++
Parents must register children at the school where they are zoned for the 2017-2018 school year.
To find your school, enter your street address on the Attendance Zone Locator at www.stjohns.k12.fl.us/zoning/.