Family Movie Night!
Did you know that Picolata Crossing is the first and only school in the county to offer a school community movie night with a giant inflatable movie screen, FM radio transmitter, and 4K projector! Families can enjoy the experience from the comfort of their vehicle, truck bed, or under the stars on a blanket/lawn chair. We had two very successful events this year! Windy weather conditions have only stopped us once. Be sure to save the date for our next event, scheduled for February 11th.
Student/Teacher Holiday
There will be no school on Martin Luther King Day, January 17th.
Parent Consent for Nurse Assistance
Please click on the link below and read the paragraph explaining the new Florida law that affects our school nursing services. Please complete the SJCSD Nurse CONSENT link by Jan. 19th.
New Year's Resolution Challenge!
Please help us to get students to school on time. Students being dropped off must arrive by 8:25am.
Lost can be found
Please label all of your children's belongings. Water bottles and jackets with student first and last name's are easy to return.
Guidance Lessons
In the coming weeks, all students Kindergarten-5th grade will be introduced to the Child Safety Matters curriculum. Child Safety Matters is an abuse prevention education curriculum designed for PreK and elementary-aged children created by the Monique Burr Foundation. This district approved curriculum introduces students to personal safety, understanding safe and unsafe situations, and teaching them 5 Safety Rules to use in any situation when they may feel unsafe. This curriculum meets the new state mandate to teach Child Trafficking prevention. For more information, please visit www.mbfpreventioneducation.org and the Florida Department of Education.
Report cards
January 19th report cards will be available in Home Access Center (HAC).
New Canopies
We have new shade structures on our playground!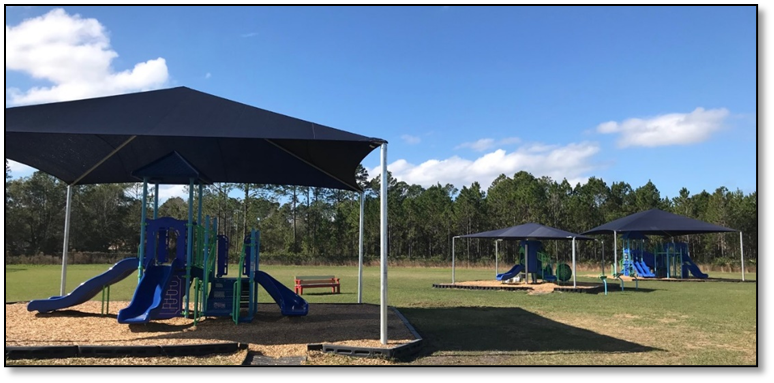 The January Breakfast and Lunch Menus
We have a new distributor, Food Supply, Inc., beginning January 2022.  While we have a new distributor, the supply chain issues continue and are projected to continue for at least the remainder of the school year.  Knowing this, we will streamline our menus to offer items that are available.  The posted menus for January will offer less choices.  It is our intention to expand the menu once manufacturing and inventories at Food Supply can support the effort.  Food Supply has placed orders with manufacturers.  The orders are due to be delivered to Food Supply over the next couple weeks.  To view the menu each month use the link to meal viewer…  
January Breakfast Menu
January Lunch Menu
Testing Dates
Winter iReady window Grades K-5 Jan. 10-Feb. 4
Spring State Testing
Writing Grade 4-5 April 5
Reading Grade 3 April 7-8

Reading Grade 4-5 May 2-3

Math Grade 3-5 May 9-10

Science Grade 5 May 16-17
Spring iReady window Grades K-3 April 25-June